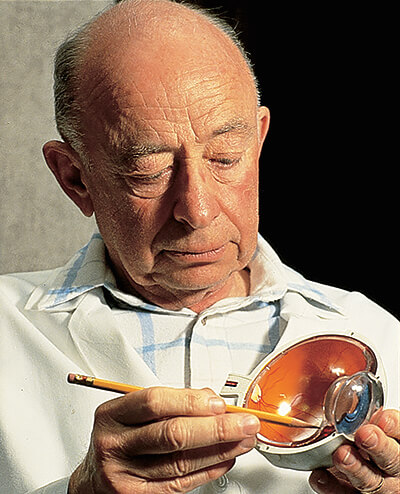 Thomas H. Maren, M.D.
Graduate Research Professor
University of Florida
Chair, Department of Pharmacology
UF College of Medicine
1918-1999
2 U.S. patents
Thomas H. Maren was a physician, Graduate Research Professor at the University of Florida (UF) in Gainesville, and charter member of the UF College of Medicine faculty, who chaired the Department of Pharmacology for 22 years. Maren's research resulted in the invention and commercialization of Trusopt®, the first topical treatment for glaucoma. In 1955, Maren was recruited to UF where he was a major influence in developing the medical curriculum and recruiting faculty. At UF he continued his work on the medical effects of the inhibition of carbonic anhydrase, a prominent enzyme in renal function, respiration, and fluid secretion, which led to his revolutionary treatment for glaucoma using eye drops containing carefully designed inhibitors of carbonic anhydrase. Maren was also a generous benefactor establishing endowed chairs at the UF College of Medicine and supporting programs to promote reading efficiency among disadvantaged young students in Gainesville. During his career he accumulated over 200 research publications and is a named inventor on two U.S. patents.