The Annual Induction Ceremony and Gala recognizes the distinguished contributions of the newly inducted class to the Florida Inventors Hall of Fame. In partnership with generous sponsors, the Florida Inventors Hall of Fame Annual Induction Ceremony brings together members from the innovation communities in Florida as well as across the United States to celebrate these esteemed inductees.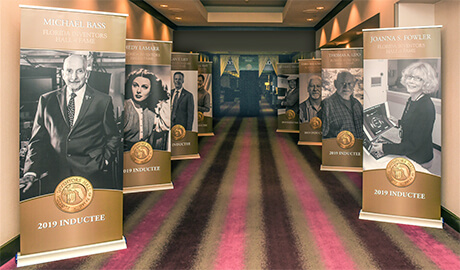 Join Your Fellow Members of the Innovation Community
---
For all sponsorships, please note the following: Pursuant to IRS guidelines, support is defined as a "Qualified Sponsorship," which means no endorsement of your business, qualitative or comparative language, price information or indication of savings or value can be included in written words or in program remarks. In essence, your organization can be acknowledged through simple use of your name, logo and location, but no message that promotes or markets any trade or business, or any service, facility or product is permissible.
---
FLORIDA: SC No. 59-0879015 A COPY OF THE OFFICIAL REGISTRATION AND FINANCIAL INFORMATION MAY BE OBTAINED FROM THE DIVISION OF CONSUMER SERVICES BY CALLING TOLL-FREE, WITHIN THE STATE, 1-800-HELP-FLA OR VIA THE INTERNET AT WWW.FDACS.GOV.