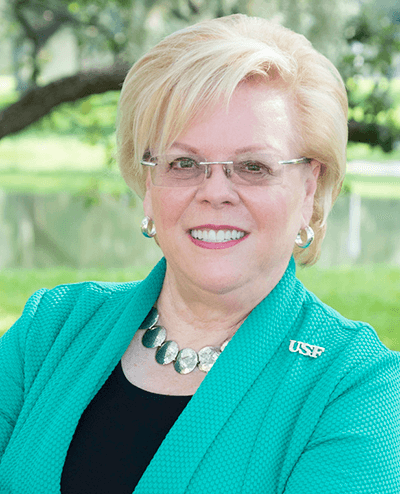 Rhea F. Law
President
University of South Florida
Rhea Law is a proud fifth-generation Floridian who is passionate about the success of the state. Actively involved in corporate, public policy, civic and charitable work, Law holds top leadership positions with many Florida-based organizations. She received gubernatorial appointments to serve on the inaugural Board of Trustees for the University of South Florida, as well as the Board of the Florida Council of 100, the public policy liaison with Florida's governor, cabinet, legislative leadership and Supreme Court. Rhea served as Chair of the Board for both organizations. Further, she served on the Presidential Search Committee for the University of South Florida in 1999 and 2019. In addition, she was a two-time Chair of the Tampa Hillsborough Economic Development Corporation and the Tampa Bay Partnership during times of reorganization and expansion. She also served as Chair of the University of South Florida Health Professions Conferencing Corporation which operates the Center for Advanced Medical Learning and Simulation and Chair of the Stetson University College of Law Board of Overseers, as well as serving on the Board of Trustees of Stetson University.

Currently, Law serves on the Board of Directors of Tampa Electric Company, which supplies electricity to the Tampa area, and Peoples Gas, which provides gas throughout Florida. She also serves on the Executive Committee of the Tampa Bay Economic Development Council, the Tampa Bay Chamber, and on the H. Lee Moffitt Cancer Center Board of Directors and National Board of Advisors. As a member of the USF President's Council Society, she is among honored donors who have made a lifetime commitment of $100,000 or more or a legacy gift to USF.
Law is the former CEO and Chair of the Board of Fowler White Boggs, a Florida law firm. She led the merger of Fowler with a national firm, Buchanan Ingersoll & Rooney in 2014 where she continued to serve as Chair, Florida Offices until 2021. The consolidation of the firms created a powerhouse firm with law offices throughout the country and hundreds of lawyers who specialize in a broad spectrum of business areas such as Energy, Finance, Healthcare and Life Sciences.
Her areas of practice included higher education, economic development, government, environment and land use. Over the course of her 35-year-plus career, Law has worked with clients on land use and strategic planning to meet the needs of a growing Florida.
Recent recognitions include:
Tampa Bay Business Journal: BusinessWoman of the Year Lifetime Achievement Award 2022
Florida Council of 100: Governor's Business Leader of the Year Award 2021
Florida Trend magazine: Named to Florida 500 – Florida's Most Influential Business Leaders – since 2018; Living Legend in 2021
Tampa Bay Business Journal: Named #6 in the Power 100 – Tampa Bay's Most Powerful Business Leaders with greatest impact and influence on the local business community
Tampa Bay Times: Named one of the Top 25 Most Influential Business Players in Tampa Bay
The Best Lawyers in America® and Florida Super Lawyers since 2006; "Lawyer of the Year," Best Lawyers list and in the Top 50 Female Lawyers