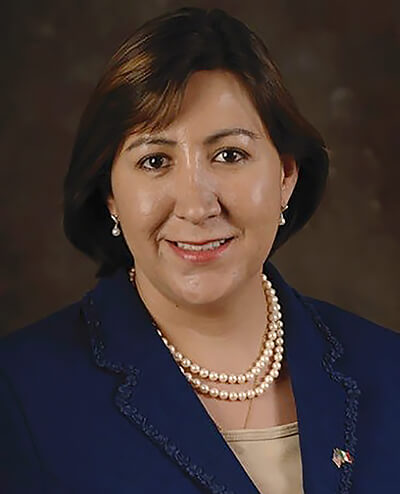 Norma A. Alcantar, Ph.D.
Professor of Chemical, Biomedical & Materials Engineering
College of Engineering
University of South Florida
23 U.S. Patents
Norma A. Alcantar is a Professor of Chemical, Biomedical & Materials Engineering at the University of South Florida. Internationally known for her breakthroughs using plant-based technology to decontaminate water, Alcantar's applications are imperative to future global sustainability and advances in biomedical applications for Alzheimer's and cancer.
Over the course of the last 20 years, Alcantar has harnessed her research to invent new technologies using biomaterials derived from cactus plants that can expand the molecular removal of heavy metals, bacteria, sediments, radioactive isotopes, volatile organic compounds, and hazardous concentrations of fluoride and ammonia from water and soil. She has successfully demonstrated its use in many applications around the world, including Mexico, Bangladesh and notably in Port-au-Prince, Haiti after the 2010 earthquake. She has further applied this technology for sustainable soil systems that renew ground nutrients and enhance crop production. Alcantar has also developed a series of patents pertaining to improving capabilities of fish farming by enabling faster and more efficient removal of the bacteria that forms in the water tanks, and greatly reducing the amount of water and time previously required for mitigation. All of these innovations are playing a critical role in the global food-water-energy nexus.
Alcantar's recent patents are biomedical applications of her technology for novel therapies to fight a number of disease processes. She designed new methods to treat amyloid diseases such as Alzheimer's, by disrupting the formation of the plaques that can cause damage to brain tissue and function, and she developed a transformative drug delivery system to enhance treatment of brain and ovarian cancers.
Alcantar is a Fellow of the American Institute for Medical and Biological Engineering, and an NAI Senior Member. She has received a Fulbright U.S. Scholar Award, Jewish National Fund Fellowship, Excellence in Innovation Award, and USF NAI Chapter Outstanding Faculty Award.