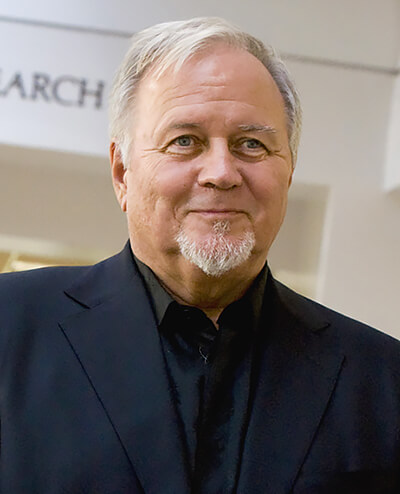 Nicholas Bodor, Ph.D.
Founder and CEO
Bodor Laboratories
Graduate Research Professor Emeritus
University of Florida
170+ U.S. Patents
Nicholas Bodor is founder and CEO of Bodor Laboratories in Miami, Florida and Graduate Research Professor Emeritus (active) at the University of Florida (UF), College of Pharmacy who is recognized internationally as a leader in drug discovery, design, and delivery. Bodor invented revolutionary retrometabolic drug design concepts that have improved the ratio of therapeutic effect and safety of medication. These concepts strategically combine chemical and enzymatic (metabolic) processes to achieve drug targeting, thereby producing safer drugs and safer environmental chemicals. The two major classes of retrometabolic drug design concepts contain chemical drug targeting systems (CDS) and the soft drugs (SD). The design concepts incorporated in the soft drug approaches were used by Bodor to develop a general and comprehensive program, including a computerized expert system, which can identify potential and possible metabolites and the corresponding safe active soft drugs or chemical delivery systems. A soft steroid, Loteprednol Etabonate, created by Bodor to treat ophthalmic infection and allergies is on the market in the U.S. and other countries. During his tenure at UF, he served as chair of the Medicinal Chemistry Department and was promoted to Graduate Research Professor in 1983. He later became the Executive Director of the college's Center for Drug Discovery, founded by him in 1986. Bodor supervised the training of more than 50 doctoral students and 100 postdoctoral level research associates and fellows at UF before taking a leave of absence to accept a position at IVAX Pharmaceuticals in Miami. He is an AAAS Fellow and a named inventor on over 170 U.S. patents.
A MENTION ABOUT INVENTION
3 Questions for the Inventor
Q Of your patents/inventions, which one is your favorite and why?
Interesting questions, not easy to answer. But here it is:
N.Bodor "Soft Steroids Having Antiinflammatory Activity" U.S. Pat. 4,996,335, February 26,1991. It is my first favorite, simply, because it covers my first drug that got to the market (in 1998). The active compound, named Loteprednol Etabonate, is now the active component of some eight or nine drug products, marketed by different companies. It is a very successful drug, as indicated by an article published by T.L. Comstock and J.D. Sheppard "Loteprednol Etabonate for inflammatory conditions of the anterior segment of the eye: twenty year of clinical experience with a retrometabolically designed corticosteroid" Expert Opinion on Pharmacotherapy, 2018, 19:4, 337-353. Another favorite is: N.Bodor "Brain Specific Drug Delivery" U.S. Pat. 4,479,932; October 30, 1984, since this a very general patent describing a very novel and general chemical-enzymatic way to specifically target drugs to the brain. When we filed it, it was more than 450 pages long, and we have a large number of follow up patents.
Q What inspired you to become an inventor/innovator?
I am a scientist, driven by interest to find novel stuff. Many of these findings I published in some 500+ research articles. However, some of the useful new ideas can only be developed, if protected by intellectual property, that is patents. Patenting is a very different field than publications, but they are critical in drug discovery.
Q Do you have a personal process that you follow when inventing?
This is a very complex question. I feel that I work constantly, some ideas and questions are always in the back of my mind. Solutions come unexpectedly and sometimes unrelated to the very scientific fields, reading a novel, practicing sport, watching a show, etc. could trigger the answers. Most solutions are not simply logical. The other important aspect is to work simultaneously on a number of different projects, something will always work, thus the interest and progress can be maintained.