Florida Inventors Hall of Fame Exhibit
As part of the vibrant innovation ecosystem, the Florida Inventors Hall of Fame Museum showcases engaging exhibits of the Inductees and their inventions. Take a look at our virtual museum.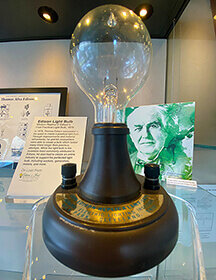 The collection includes original patented inventions and replicated patents from early Florida inventors like John Gorrie, the original creator of air conditioning and ice making; as well as Thomas Edison, the father of modern invention who created such items as the incandescent light bulb, the storage battery, and the phonograph—which was the first to record and play sound.
The museum also displays more modern inventions from inductees such as Kennedy Space Center's Jackie Quinn, the inventor of Emulsified Zero Valent Iron (EZVI) used for removal of cancer-causing PCBs (polychlorinated biphenyls) in materials, soils and sediments, as well as Jerry Pratt, who leads a research group at the Florida Institute for Human & Machine Cognition (IHMC) and is revolutionizing bi-pedal walking for humanoid robots.
The museum proudly displays an original, fully-restored Link Flight Trainer or "Blue Box," first invented by Edwin A. Link in 1930 to help train new pilots how to fly by instruments alone. The Link Trainer is designated as a Historic Mechanical Engineering Landmark by the American Society of Mechanical Engineers. Saying in part, "From its inception through today's advanced versions, the Link Trainer has helped develop the flying skills of hundreds of thousands of pilots and significantly improved flight safety." —ASME International (June 2000).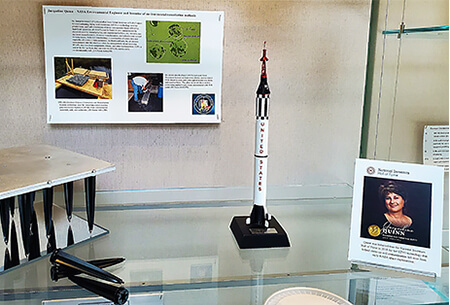 Visitors can tour indoor exhibits as well as an outdoor Walk of Fame which displays bronze plaques of all of the Florida Inventors Hall of Fame inductees. Touchscreen kiosks are located in both areas for guests to view video biographies of the inductees and explore stories about their inventions.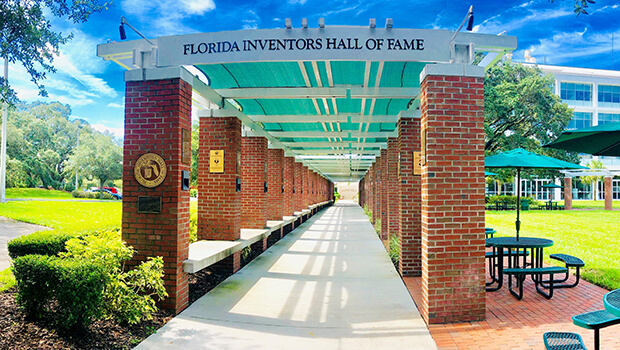 Location
The Florida Inventors Hall of Fame Museum is located at the USF Research Park on the University of South Florida, Tampa campus.
Florida Inventors Hall of Fame Exhibit
at the USF Research Park
3720 Spectrum Boulevard
Tampa, Florida 33612
813-974-1101
Hours
The indoor exhibit is open from 8 a.m. to 6 p.m., Monday through Friday. The outdoor exhibits are open from 8 a.m. to 8 p.m. daily, including weekends. The adjacent café is open Monday through Friday from 8 a.m. to 3 p.m.
Admission
The exhibits are open to the public, and there is no cost for admission. Group tours and school groups are welcome. For a guided tour contact us by email.
Parking
Free parking is available in the visitor parking section indicated on the map of USF Research Park.