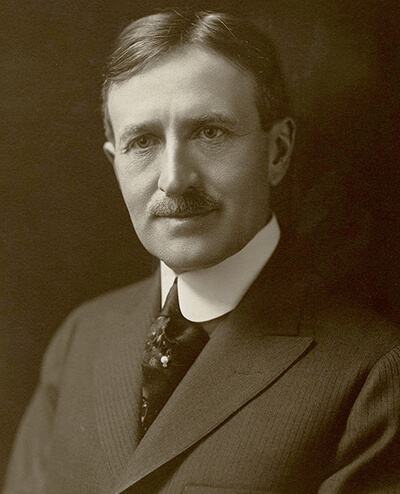 Harvey Firestone
Founder
Firestone Tire and Rubber Company
1868–1938
4 U.S. Patents
Harvey Firestone, innovative businessman and founder of Firestone Tire and Rubber Company was a pioneer in the rubber industry who did much to advance scientific research in Florida. He acted as a tireless booster for the state, purchasing a winter estate on the east coast where he hosted companywide retreats and promoted the area to all who visited. Most notably, Firestone collaborated with Thomas Edison and Henry Ford as co-founder of the Edison Botanic Research Corporation. Together, their groundbreaking search for a domestic source of natural rubber led to botanical and chemical advancements, helping to pass the Plant Patent Act of 1930 through Congress. Firestone's contributions to this endeavor were critical as he utilized his international business and political connections to advance the project while contributing crucial scientific knowledge regarding the chemistry of rubber. Today, the Edison Botanic Research Corporation Laboratory, located at the Edison and Ford Winter Estates in Fort Myers, has been designated a National Historic Chemical Landmark. Firestone also utilized his substantial political clout to encourage the passage of bills which furthered rubber research in Florida, benefiting sites like Chapman Field in Coral Gables. Firestone tires later became synonymous with automotive racing, which took root in Florida beginning in the 1930s, earning the area national renown. Firestone's contributions to the automotive industry are plentiful and his impact on the state of Florida may be equally important. Today, his legacy lives on as his former east coast home is now the site of the celebrated Fontainebleau Hotel in Miami. In 2006 he was elected into the National Inventors Hall of Fame. He holds 4 U.S. patents.
A Mention about Invention
Harvey Firestone was born on December 20, 1868 in Columbiana, Ohio, the second of three children (all sons) of Benjamin and Catherine Firestone. He grew up there on the family farm, attending school in a one-room schoolhouse, graduating from high school, and completing a business-college course in Cleveland. He worked two years as a bookkeeper for his uncle, head of the Columbus Buggy Company; by 1892, he was in charge of the entire Michigan district. In November 1895, he married Isabelle Smith of Jackson, Michigan.
When his uncle's company went into receivership, Harvey drove a buggy with rubber-tired wheels for the receiver. An idea came to him, as he later put it: "My future was right on the wheels of my buggy." He and an acquaintance established a company in Chicago in 1896; after three years it was sold to a competitor, with Firestone receiving $41,666.67 in cash. He relocated to Akron, Ohio, where the big tire-making companies were located. On August 3, 1900, he organized the Firestone Tire and Rubber Company; by putting in his own patent and money, he acquired half the shares of the $50,000 corporation. After 1903, when it began to manufacture its own products, the company prospered.
The beginning of a long and important business relationship, which also led to a personal friendship, occurred in 1906 when Henry Ford placed a large order with him. Firestone, Ford, and Thomas Edison later joined in summer camping trips (1915-24) that won national attention.
In 1907, he offered a "dismountable rim" which permitted a spare to be substituted. His tires became popular because of their use by automobile race winners. By 1913, the company's annual sales were $15,000,000. Firestone, Goodyear, Goodrich, United States Rubber, and Fisk were the "big five."
The 1920-21 depression left the company with a $43,000,000 debt. Firestone immediately cut prices, increased sales, and paid off the debt by 1924. He also cut wages and was able to forestall organized labor until the mid 1930s. In 1923, Firestone introduced the balloon tire, soon to become standard for most types of motor vehicles. Firestone made it through the 1929 depression without suspending dividend payments and continuing his position in the trade.
In 1932, Henry Ford's V-8 engine meant Firestone had to develop a new tire; then he demanded it be at the same price Ford was initially paying. His Ground Grip tire, put out in 1935, used a new tread design that became widely successful.
In 1937, his company was showing profits of $9,000,000 — and was supplying approximately one-fourth of all the tires in the United States. The company had expanded its manufacturing facilities and had 12 additional U.S. and eight overseas factories devoted to steel, rubber, and textile products.
Firestone used "consensus management" by getting opinions of his management staff and having them come to obvious decisions. He also avoided bureaucratic hierarchy. His forty managers sent monthly reports to him. He also had a genius in choosing the right person for the right job. "My most valuable executives have picked themselves by their records. People prove themselves at lower levels."
Real keys to his leadership were his ability to delegate responsibility — and to know men. At the Firestone Company, there was a tremendous commitment to getting the job done. He was one of the first in the country to offer company stock to his employees at reduced rates, so that they could be part of the operation. He was sad to see unions come in because he lost personal contact.
Credit: Edison and Ford Winter Estates